Model behaviour: why data is all important for new technologies
Marine demonstration zones are a fantastic resource for testing new marine energy devices, and are increasingly important to their success. But physical tests are only as good as the data they are based on, as Principal Engineer Juliette Parsi  explains.
Hydrodynamic modelling may not be the first thing innovators think of when they embark on creating new wave and tidal technology, but the data obtained from such models really can make a difference to the commercial viability of devices. 
In short, hydrodynamic modelling is the study of fluids in motion to: simulate waves; tides, currents; sediment transport; and morphology change in the coastal zone - all important considerations when developing wave and tidal power devices. 
To start with, it's important that demonstration zones have enough energy to be useful, which can be established with an energy resource assessment. Researchers do this by taking information about the seabed and coastline and combining it with a selection of metocean conditions, such as tides and winds. They then run the model on a super computer to give predictions of water level conditions, current speeds and directions before using this information to predict the extractable energy at the site.
HR Wallingford recently did just this for the Morlais demonstration zone off the coast of Anglesey and also helped Menter Môn, the not-for-profit company running the project to prepare its environmental statement in order to gain a marine licence. The team assessed the direct impact of the zone on flow speeds, waves and sediment transport, as well as more detailed energy resource assessments for specific devices. They also investigated sediment transport impacts at key features such as the Gogarth Bay and Abraham's Bosom sediment deposit zones; the South Stack Banner Bank and the pocket beaches on Holy Island.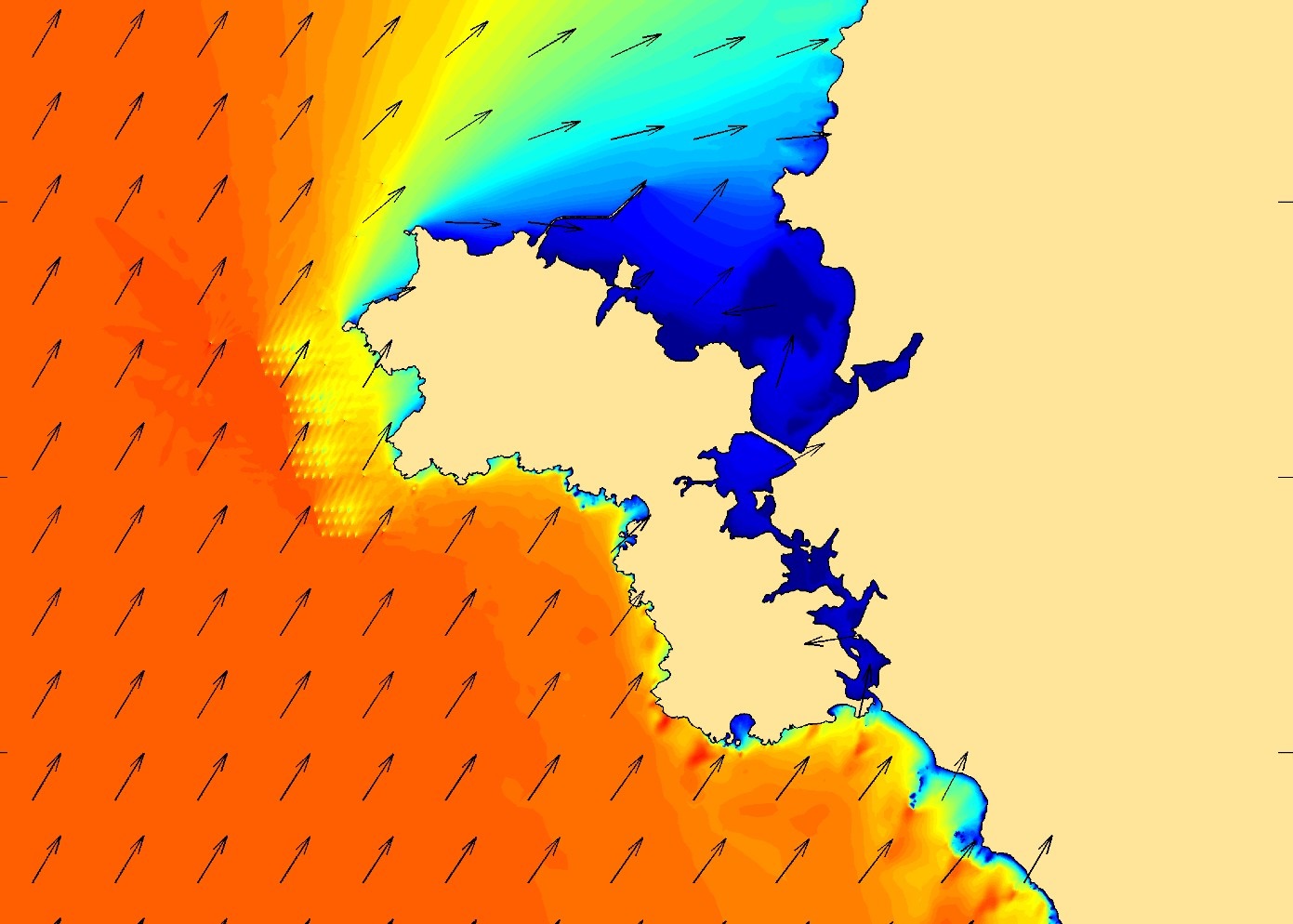 Images from the wave modelling at the Morlais demonstration zone, looking at the impact on waves from floating tidal energy devices
Demonstration zones are not 'one size fits all' for new technologies, as they have different behaviour and energy production depending on the site's metocean conditions. Device developers need to assess the viability of their devices at demonstration zones using site-specific data about waves, tidal current speeds and directions. Only then can they say for sure that their technology is well matched to a particular zone.
So, as the industry really starts to hit its stride in the coming years, hydrodynamic modelling will be key to ensuring that new technologies reach their potential in the marketplace.
 
Contact us for more information