Marine environmental impact assessment
We use our sector-specific expertise to assess and manage the environmental impacts of developments in the marine environment. 
Developments at the coast or in the sea will have an impact on the marine environment; a development may also be affected by its surroundings. Impact assessments focus on delivering long term sustainability for projects; they identify potential causes of harm and maximise opportunities to safeguard and enhance the environment.  
The marine environment is complex. New developments can influence coastal processes, marine sediments and water quality. They can change the way marine ecosystems, coastal communities and sea users interact. With our sector-specific expertise, we explore the potential consequences of these changes so that our clients can sustainably manage the environmental aspects of their projects. We help them to meet regulatory requirements while protecting and enhancing the environment and their reputation. 
Marine sector specialists
We are marine environment specialists. Our advice is tailored at every stage of the project life-cycle. During concept development we provide early strategic advice on potential environmental risks. During the preliminary stages of a project our environmental appraisals can identify risks to consent. And once the project goes ahead we offer formal environmental impact assessment (EIA) for all or selected EIA topic areas. Our support continues during and after project construction; we can design and manage monitor programmes that ensure projects remain within their agreed environmental footprint.
We've used our knowledge of the marine environment to build advanced tools that model the interactions between marine and coastal infrastructure and their surrounding area. These include advanced marine and coastal hydraulic, hydrological, sediment, water quality, sound and ecological modelling tools. When coupled with our expertise and bespoke marine data, we provide the evidence that underpins robust and persuasive marine impact assessments. We can:
predict changes to flows, waves, sediment transport and scour
model the dispersion of thermal, saline and other marine discharges and their impact on water quality
predict how sound is propagated underwater during construction, for instance during piling or dredging works
model how ecological receptors such as fish and plankton react to marine activities.
Evidence-led solutions
High quality marine data is needed for effective marine impact assessments. Using our expertise in marine survey and monitoring, along with our impact assessment specialists, we develop targeted survey programmes across the physical and biological environment. These surveys deliver appropriate and reliable data that meet the requirements of impact assessments.
This evidence-led approach supports proportionate response to the mitigation and monitoring strategies required to prevent, reduce and offset the impact of marine infrastructure.  It demonstrates to regulators that the marine environmental risks are comprehensively understood, and can be effectively managed. This builds trust, supports a smooth consenting process and enhanced reputations for the project developers.
Want to know more?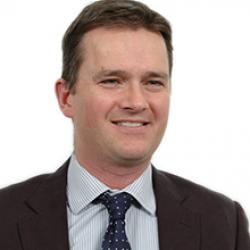 Tom Matthewson
Technical Director, Marine
+44 (0)1491 822899