We help solve complex engineering challenges faced by the offshore wind sector, supporting the growth in renewables and transition to net-zero. As turbine size increases and installations move into deeper waters, our work helps ensure that both fixed bottom and floating offshore wind farms function safely and efficiently with as long an economic asset life as possible.
Our expertise in sediment mobility, seabed morphodynamics, metocean and scour modelling helps increase affordability and safety of wind turbines. We use physical and numerical modelling to test hydrodynamic forces on new foundation types, both floating and fixed. We also help develop pioneering solutions for scour protection design and monitoring programmes.
Cables, both inter-array and main export cables, are the components at highest risk of failure on an offshore windfarm. Our expertise and decades of experience in subsea engineering, coastal engineering as well as cable protection can help reduce the risk of cable failure. As the growth in offshore wind projects ramps up, our knowledge of marine engineering can support the design and development of 'energy islands', which will act as a hub for exporting power to shore from numerous windfarms. Similarly, for the new facilities needed to support the assembly of huge floating turbines, we can assist with the development of new port infrastructure.
Fixed bottom offshore wind
We have been working in offshore wind  for more than 20 years, helping solve challenges relating to foundations, cabling and substations. As one of Europe's largest physical modelling laboratories and research organisations, we are able use our purpose-built flumes, such as the Fast Flow Facility, to undertake physical model tests. These, combined with our expertise in numerical modelling, allow us to test hydrodynamic forces on new foundation types and develop state-of-the-art solutions for scour protection design and scour monitoring programmes. With our expertise, projects can significantly reduce installation costs, remediation interventions and reduce the risk of costly failures.   
Energy islands
A number of governments and transmission system operators are developing energy islands – massive platforms or islands that will act as hubs to connect a number of far-field windfarms directly to energy markets via big HVDC interconnectors.  The idea is to reduce the length and number of export cables, minimise entry points on the grid, reduce consenting demands and lower overall project risk. Energy islands may also have secondary uses, for example for the production of green hydrogen. Our wide-ranging experience in other large marine engineering construction means that we will be able to contribute to the setting up and running of these island in various ways – designing breakwaters, managing dredging, investigating environmental considerations, and setting up simulations to plan operations and design port facilities.
Floating offshore wind
Floating offshore wind is a massively expanding market as turbines can be sited in deep-water locations with higher windspeeds and in countries previously inaccessible to fixed bottom offshore wind.  We are tank testing new designs of floating wind turbine foundations – in our physical laboratories developing state-of-the-art numerical modelling tools calibrated and validated using our unique facilities. The numerical models we are developing can then be used for future design iterations and optimisation, without the need for further physical model testing, saving time and money.
We are testing new floating platforms to investigate sea-keeping behaviour, to calculate the combined, hydrodynamic wind and wave loads on the structure to undertake fatigue analysis, optimise structural designs to reduce costs and advance mass production.
Solving engineering challenges for larger turbines and deeper waters
Port infrastructure and operations
Our expertise in designing ports and their operations can help port operators prepare to accommodate the growing sector. With decades of experience in logistics and operational modelling, navigation, and feasibility studies at ports all around the UK coastline, we are already helping port operators plan the necessary upgrades to deliver the round-the-clock facilities at a proportionate cost.
Want to know more?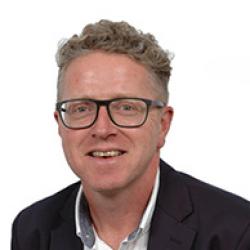 Mike Case
Business Development Manager
+44 (0)1491 822899