From large beach morphology investigations to complex harbour and breakwater models, the range and versatility of our facilities allows us to validate designs for a range of operational and extreme conditions.
State of the art physical modelling facilities
HR Wallingford's seven wave basins range in size from 25 x 32 m to 75 x 32 m and include a 55 x 27 m wave-current basin. Our largest wave basin has a floor area of 2400 m2 and is one of the largest unobstructed hydraulic test tanks in the world. The size of our basins allows major port and harbour developments to be tested without risk of significant scale effects. 
Our basins are equipped with state of the art instrumentation including multi-element random wavemakers with active wave absorption, laser scanners, video capture and infrared tracking systems (for monitoring the movement of moored vessels).
We have 100 m of mobile multi-element wavemakers, equipped with active wave absorption to remove reflected wave energy within the basins and flumes, and a further 50 m of long crested random wave paddles. The multi-element paddles are capable of generating a full range of long crested and multidirectional seastates including:
JONSWAP (defined by wind speed and fetch)
Pierson Moskowitz
International Ship Structure Congress (ISSC)
International Towing Tank Congress (ITTC)
BTTP
Neumann
Bretschneider
For short crested seas, the spreading function can be defined in a number of different ways. These include cos2θ, cos6θ, cosnθ, Mitsuyasu and exponential functions.
In the wave basin models significant wave heights (Hs) of up to 0.25 m can be generated in water depths of up to 0.8 m. In addition, our wave-current basin can generate uni-or bidirectional current discharges of up to 1.2 m3/s.
A summary of our wave basins
| Facility | Dimensions | Operating water depth | Notes |
| --- | --- | --- | --- |
| Wave basin A | 32 m x 25 m | 0.3-0.8 m |   |
| Wave basin B | 32 m x 25 m | 0.3-0.8 m | Basins A, B and C can be configured to a 75 m x 32 m basin. |
| Wave basin C | 32 m x 25 m | 0.3-0.8 m |   |
| Wave basin D | 30 m x 23 m | 0.3-0.8 m |   |
| Wave-current basin E | 55 m x 27 m | 0.3-0.8 m | With discharges up to 1.2 m3/s |
| Wave basin F | 37 m x 30 m | 0.3-0.8 m | Includes a 4 m deep central pit (4 m x 4 m) |
| Wave basin G | 35 m x 28 m | 0.3-0.8 m | With a 60 m3 storage sump |
Want to know more?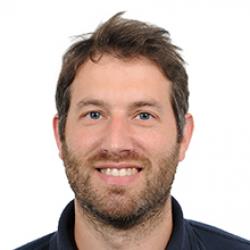 Joe Mitchell
Laboratory Manager
+44 (0)1491 822899