River morphology and sediments
River morphology must be considered when designing and assessing the impacts of intervention such as the management or planning of infrastructure. We provide solutions to a wide range of river morphology issues.
Rivers are dynamic environments. River planform and shape, and how it changes over time, must be assessed and considered when designing and planning new infrastructure near rivers or channel maintenance options. River sediments can be deposited increasing flood risk, scour may undermine structures, sediment deposition in reservoirs reduces their capacity and river banks can move affecting nearby structures. We use our specialist expertise to provide smart solutions for all types of rivers and reservoirs.
River crossings
One of the main natural risks of river crossings is river bed and bank erosion. Scour and bank erosion may expose the foundations of bridges or pipelines making them vulnerable. We can estimate the risks at existing river crossings and assess the best crossing locations for new infrastructure. We estimate local scour depths at bridge piers and abutments and specify burial depths and set-back distances of pipeline crossings. We can also advise on and design protection measures ranging from soft and green infrastructure to more traditional engineering approaches if necessary.
Reservoir sedimentation
Every year, sedimentation causes an estimated one per cent reduction in the worldwide capacity of reservoirs. Sediments block intakes, damage tunnels and turbines and may cause degradation problems in downstream rivers. We have a range of modelling approaches, including our own reservoir model, RESSASS, to predict future reservoir storage and assess the performance of different sediment management options. We estimate sediment inflows into the reservoir and outflows towards the outlets, advise on data collection techniques and field studies and explore the best sediment management option including sluicing and flushing.
Sedimentation in rivers and canals
We apply our knowledge and expertise to identify the causes of sedimentation problems in rivers and canals and explore the best options to tackle them. These options may range from managing sediment at source, designing sedimentation basins or sediment extractors or dredging.
River navigation
Navigation in rivers is subject to the variation of water depths, flow velocities, cross-sectional shapes and channel alignment. We can identify problematic reaches and periods suitable for navigation and assess mitigation measures, including river training works, to improve navigability.
River maintenance
We assess the impacts of channel maintenance and have been involved in the development of best practice guidelines on this topic. We also have developed bespoke software that enables clients to evaluate risks and benefits of channel maintenance activities to both stream channel condition and flood defence state.
Want to know more?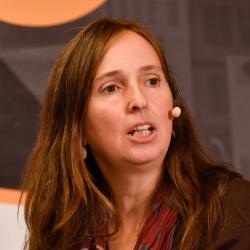 Marta Roca Collell
Principal Engineer
+44 (0)1491 822899