Our volumetric flow flume is unique in the UK in terms of its size, operating depth and flow measurement accuracy, as it uses the volume-time approach to measure flow rates, generally acknowledged to be the most accurate means available. The flume is used for a wide range of research and consultancy projects.
Technical specification
The flume has a flow capacity of 220 l/s and the ability to measure flow rates volumetrically up to 170 l/s using a 36 m3 volumetric tank. This has been certified by the British Standards Institute as having an overall accuracy of ±0.215%. Flow rates can also be measured by means of an electromagnetic flow meter for studies where the accuracy provided by the volumetric tank is not required (typical accuracy within ±1%).
The flume is 2.4 m wide by 25 m long by 0.9 m deep (with maximum working depth of 0.7 m). A tailgate at the downstream end of the flume allows control of the flow depth. Flow rates are controlled by valves and stabilised by baffles and a high head tank.
Applications for our volumetric flow flume
Hydrometry: gauging structures such as weirs and flumes
Fish passes
River structures
Flow meter accuracy evaluation
Bank protection and erosion studies
Scour around structures.
Want to know more?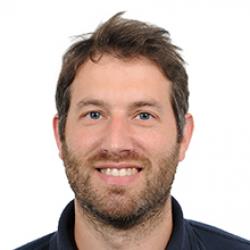 Joe Mitchell
Laboratory Manager
+44 (0)1491 822899