Developing ports for floating offshore wind is an unprecedented opportunity
As the growth in offshore wind continues to grow exponentially, ports have a huge opportunity to become hubs for floating turbine assembly and integration. Tom Matthewson explores how specialist modelling can help operators adapt.
The offshore wind revolution is spreading across the globe. Floating offshore wind is on the cusp of full scale industrialisation, with at least 50GW of projects in development globally.
This growth represents an exceptional opportunity for the ports industry, not least because fabrication, assembly and integration of wind turbine generators is likely to move port-side due to the ever-increasing size of the structures, complexity of assembly, integration and installation logistics. Port-side construction is also extremely positive from a sustainability perspective, as it keeps supply chains local and reduces towage time to the wind farm site.
However, in their current form, many ports are not set up to maximise this opportunity. Currently, portside assembly and integration for the next generation of offshore turbines requires quay lengths of up to 500m, which many ports don't have, and quay depths of about 7-15m. Additionally, storage in the water needs to be in the order of 30ha, with similar areas landside. And floating offshore windfarms will need port operators to take this to a whole new level in terms of their scale and ability to handle high rates in production of new turbines. If port operators are to grasp new opportunities, they will have to adapt.
This means that the first step to realising port-side assembly and integration is often expansion. And growing ports require master planning exercises, for both land and marine operations, that take capital and maintenance costs, and safety, and efficient operations into account. This can be done using intelligent software, such as our PortOps platform.
It is also crucial to incorporate physical forecasting into the economic, operational and strategic planning. For example, real time forecasting of wind and waves can ensure safe and effective performance for specialist operations such as floating wind marshalling and assembly.
Model solutions
In fact, employing physical and computational modelling can lead to far better outcomes when used to assess the full range of hydraulic and navigation aspects of port, harbour and marine terminal development.
Many questions can be answered using state-of-the art modelling to create better design that can cut costs and improve the sustainability credentials of projects. Are new coastal defences needed? Can we ensure that new infrastructure will be effective? How can ports define optimal limits for safe operations, berthing and mooring? What is the appropriate dredge and disposal to deliver the required depths for production? What are maintenance requirements? And the list goes on!
There are also many examples of the benefits of modelling. For instance, ensuring breakwaters are no larger than needed means that construction materials are minimised, cutting down on cost and carbon generated through production, transportation, as well as assembly and integration. The same applies when ensuring quays are designed at the optimum height, which balances the need to avoid flooding, whilst minimising the resources needed for construction. And the latest modelling techniques can significantly reduce the rock needed for scour protection by employing accurate data for soil conditions and mobility (using metocean and geomorphological studies) alongside information about wave and current conditions.
It's also really beneficial for port users to test proposed schemes before assembly and integration, using navigation simulation. At HR Wallingford, port pilots who come to our ship simulator centre, frequently comment that the process is invaluable.
Environmental impact assessments are a vital part of the planning process, and good data can help mitigate the impacts of new developments on coastal processes and water quality, ensure developments take the effects of climate change into account. It's worth noting here that it's also sometimes possible to consider incorporating nature-based features to reduce concrete when designing the quayside and coastal protection. Natural and nature-based features, such as such as dunes, sandscaping or mangroves, can also bring other benefits providing habitats, recreation areas, or even via carbon sequestration, thereby helping to make port expansion a more sustainable solution.
Effective modelling involves more than just the computer simulations. The results need to be interpreted by people, and those people need to have the expertise to provide the best advice and to work in collaboration with others in the offshore wind industry, such as regulators, owners, operators, contractors and consultants.
All-in-all, there's a huge amount to consider when it comes to gearing up to quay-side construction, but if ports grasp the opportunity to expand, the benefits could be huge. It's an exciting time for ports all over the world to transform – so let's do it accurately, sustainably, and create maximum benefit for society and our industry in the long-run.
Want to know more?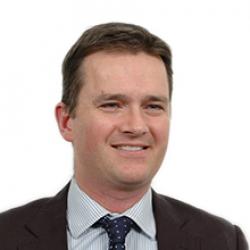 Tom Matthewson
Technical Director, Marine
+44 (0)1491 822899