Small island states: opportunities for building climate resilience
Extreme weather now regularly causes devastation to small island nations. This leads to big problems for water supplies, which are highly exposed, yet are critical to communities and for economic development. Ensuring water supplies are resilient should be a top priority, but challenges remain in improving systems, strengthening institutions and securing investment. In the Caribbean, HR Wallingford's water and climate resilience experts have been working to help the region's water sector address these challenges. George Woolhouse explains the initiative and how the team's work could be translated to attract increased investment for other small islands states.
Small island challenges
Safe, reliable and resilient water supply services contribute hugely to achieving national development goals and agendas. However, small island nations are up against some very particular challenges, which can make these goals hard to realise. Many islands may look like paradise, but are actually very harsh environments in terms of the provision of safe water supply with heavy rainfall, high turbidity rates and a lack of water storage making them particularly susceptible to flood, drought and the effects of climate change.
Social problems relating to water also abound. During our work in the Caribbean, we were repeatedly told that access to water was undervalued, with the public prioritising their mobile phone bills over their water bills. However, the value of water becomes all too apparent when it is no longer available, such as after Hurricane Dorian which hit the region in 2019. The category five hurricane caused major disruption to essential water supplies, as well as to services such as hospitals, schools and government facilities.
On top of this, the water authorities for small island nations have over-stretched human resources capacity and face a lack of financial resources. This means appropriate technical solutions that could improve the reliability and robustness of water supply systems are out of reach, and authorities often don't have the capacity to attract enough investment to prioritise climate resilience challenges, let alone to conduct regular maintenance. This, in turn, leads to a vicious cycle of water supply systems becoming progressively degraded and increasingly less resilient over time.
Building back better
Importantly, these countries are also missing the opportunity to build resilience into their water supply systems when they rebuild after disasters. Water services are often restored with temporary solutions and quick fixes, making them even more vulnerable to future climate impacts.
Building Back Better is a pillar of the internationally agreed Sendai Framework for Disaster Risk Reduction (2015-2030) and is essential to the achievement of Sustainable Development Goals. The approach calls for action and investment that goes beyond the short-term need to recover and repair services, taking into account the need to rebuild with a higher degree of resilience than prior to the disaster.
Building back better is often more expensive than business as usual, but the longer term economic and social benefits of access to safe and reliable water services normally far outweigh the cost. It also requires risk-informed planning and reconstruction of infrastructure alongside the strengthening of institutions.
How knowledge attracts investment
In a project funded by the Caribbean Development Bank (CDB), we worked alongside national water supply authorities from across the Caribbean region to overcome these challenges by creating a training manual to support the integration of climate resilience. At first, a manual might not sound terribly revolutionary, but this particular manual is the first time that a holistic regional approach to solving the Caribbean's water supply issues has been made available.
And knowledge truly is power when it comes to investment. The sector needed a way of strengthening the region's institutions to allow them to secure funding for climate resilience and the guidance provides a solution by detailing how to assess needs, prepare investment plans and identify sources of finance for effective implementation.
Whilst the broad challenges presented by climate change for small islands are similar, the ways that individual islands are affected can actually be very different. Presented in a format that can be easily tailored for use in different countries, the manual comes complete with a toolkit to develop and implement climate resilient water sector policies, plans and actions. In addition, the manual showcases good practice, case studies and lessons learned from different countries.
The manual guides users through such topics as engaging stakeholders; setting objectives; screening policies, strategies and legislation; climate risk and vulnerability analysis; prioritising options for implementation; identifying sources of finance; and monitoring and evaluation.
To get use of the manual up and running, a regional Training of Trainers (ToT) event brought together over 70 representatives from 16 Caribbean countries. Subsequently, participants have used the guidance to prepare action plans and processes to aid the preparation of climate resilient policies, strategies and investment plans in their own country contexts.
As climate change continues to effect small islands worldwide disproportionately, we hope that regional approaches, such as the Caribbean training manual, will be replicated and employed across other groups of small island nations. Perhaps, in this way more small island states can strengthen their capacity and get the financial support they need to build climate resilience into their water supply services.
Our initiatives in images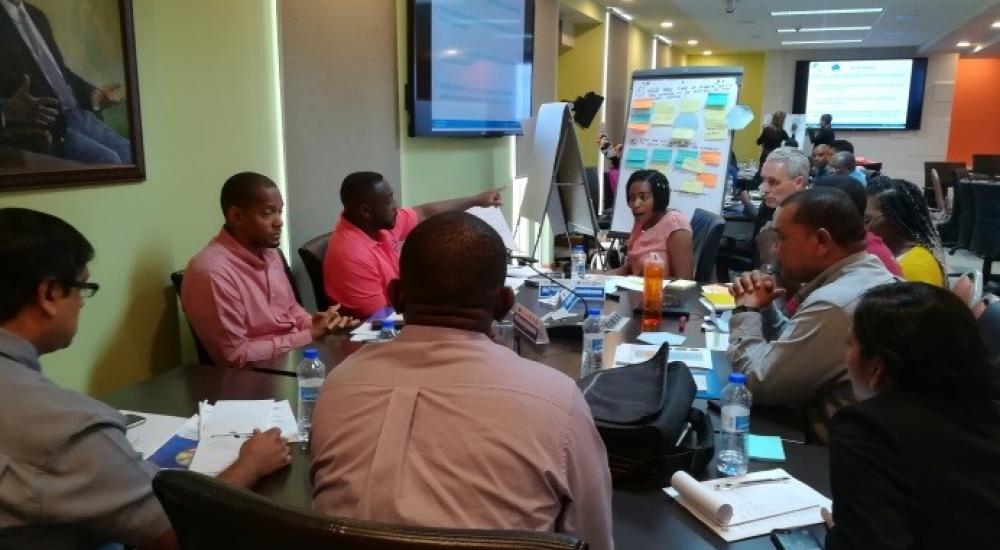 Training of Trainers event held at the CDB, Barbados.
Want to know more?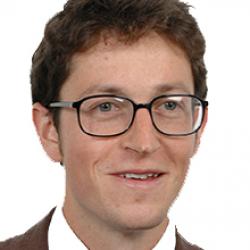 George Woolhouse
Principal Scientist
+44 (0)1491 822899