Paul Samuels receives CIWEM Fellowship
Dr Paul Samuels, technical director at HR Wallingford, has received an Honorary Fellowship from the Chartered Institute of Water and Environment Management (CIWEM). This was in recognition of his service to the Journal of Flood Risk Management as a founding member of the Board of Editors in 2007 and for his role as editor in chief since 2014. 
Paul Samuels has had an active career in research and consultancy in river management. He has contributed to research projects for the European Commission, the British Government and the UK Environment Agency. This has included risk assessment, climate change, catchment management and mathematical modelling of river flows. Between 1995 and 2009, his European research was grant-funded from the Environment and Climate programme and included coordinating the FLOODsite Integrated Project.
Paul has experience in flood and water management projects in the UK, Bangladesh, China, France, India, Ireland, Romania and Thailand. For four years, Paul was a member of the European 'Working Group F' for the European Directive on the assessment and management of flood risks. He has presented evidence on flooding issues on his clients' behalf at planning inquiries, in court and in Parliament.
Paul received his award at the CIWEM annual dinner in May, alongside four other new fellows.
The Journal of Flood Risk Management is published by Wiley and can be read online.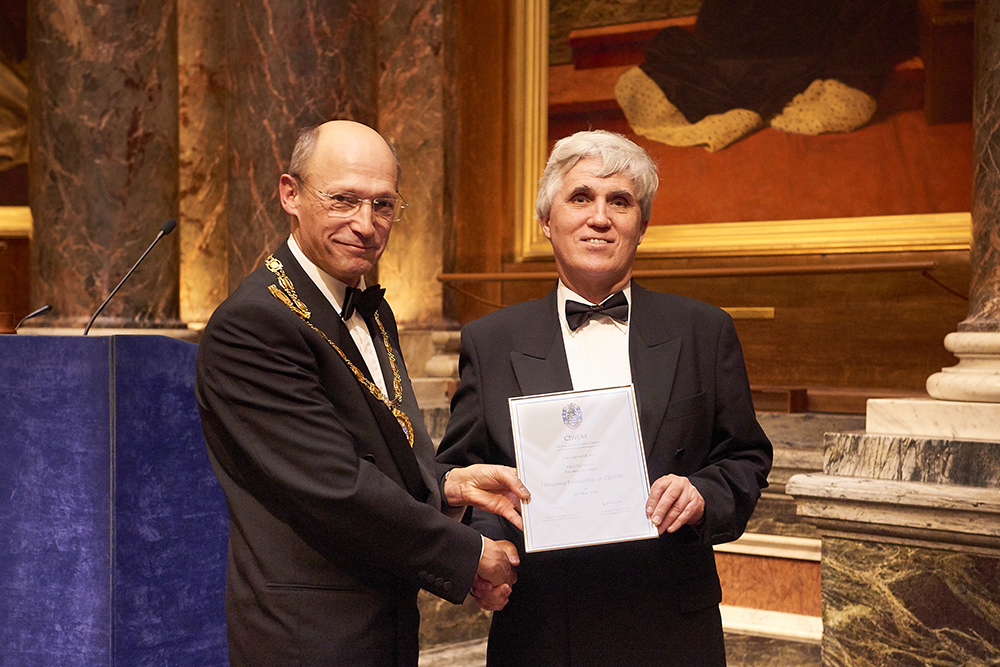 Paul Samuels receiving his award for Honorary Fellowship from President David Wickens
Contact us for more information