ARCboat helps land innovative tech award
We were delighted to be the winner of the Innovative Tech Company category at the Thames Valley Tech Awards 2019. Our team received the #TVTA19 accolade on 19 September at the Madejski Stadium in Reading for our entry focused on our #ARCboat and related services.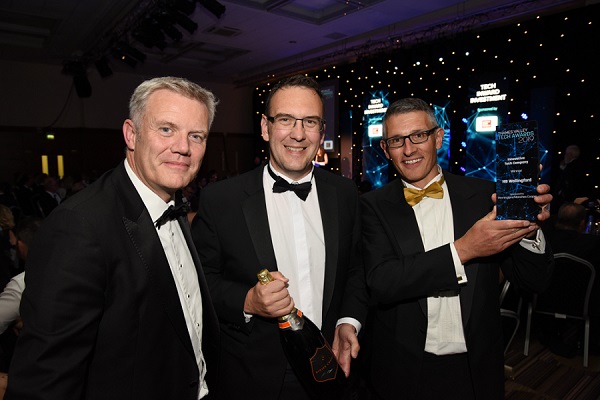 Simon Tiedeman, Stephen Richardson and Graham Leeming are pictured receiving the award.
The judges said: "We were impressed by the culture of innovation demonstrated by the winner. Although a long-established organisation, it has a thriving entrepreneurial spirit. With the ARCboat, this company is striving to overcome safety and environmental challenges as well as improving cost effectiveness and efficiency."
Senior surveyor Peter Watchorn, who wasn't able to attend the award ceremony, said: "We initially designed the ARCboat to meet the needs of the Environment Agency whose monitoring teams find the vessel an invaluable tool for surveying rivers and other water bodies. The ARCboat, and the recently launched ARCboat Lite, can deliver advance knowledge of water levels and flow, which provides valuable information to help to limit the effects of potentially damaging flooding. The Environment Agency also uses the ARC-Boat – which is very environmentally-friendly - to assess the health of our rivers by helping to identify habitats suitable for fish, for example."
Contact us for more information