HR Wallingford to undertake studies for San Antonio Port Expansion Project
11 January 2018
HR Wallingford is to undertake physical modelling studies for a major breakwater which forms part of the proposed port expansion of San Antonio, Chile. The Outer Port project, known as the Puerto de Gran Escala (PGE), represents a major expansion of the existing port infrastructure of San Antonio. The proposal involves staged development of the port over a 19 year time span, with an estimated overall cost of 3.4 billion USD.
The construction of the new breakwater to shelter the terminals involves a first section perpendicular to the coast, approximately 1.5 km in length, followed by another section of about 2.4 km long running parallel to the coast, for which over 1.8 km² of land will be reclaimed.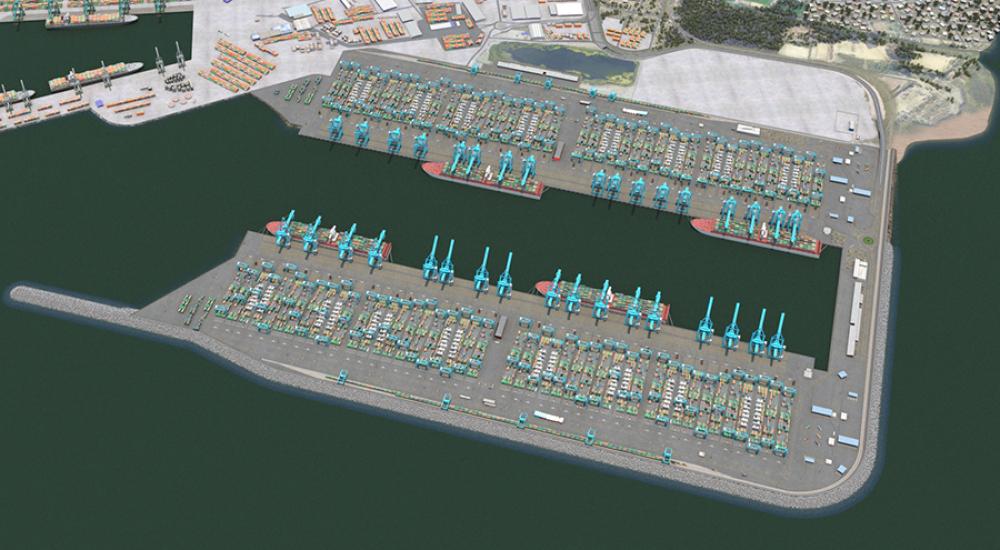 When fully completed, San Antonio's Outer Port will have a breakwater of over 3.9 km long (Image courtesy of Puerto San Antonio, Chile)
Daniel Roth, Project Director, San Antonio Outer Port, said: "This is a significant infrastructure project for Chile, and we are delighted to be working with HR Wallingford whose experience of breakwaters, as well as of working in Chile will be of particular benefit to the project. The physical studies will allow us to examine phenomena that require more detailed analysis in a reduced scale physical model, and which the computer modelling is not able to represent with the same level of precision. The result of this study will enable us to confirm the suitability of the basic design, investigate at a higher level of detail and achieve optimisation of the project with the aim of perfecting our project in terms of costs, deadlines and design before construction."
Located due south of the current port, the Outer Port will specialise in transferring containers. The planned dock length for each terminal is 1.73 km, allowing for the simultaneous docking of four large class E container ships, and a stacking area sufficient to operate up to 3 million TEU annually.  The design includes an access channel and the dredging of the turning basin and the interior harbour to ensure accessibility for the E-class container ships, even under highly unfavourable weather conditions.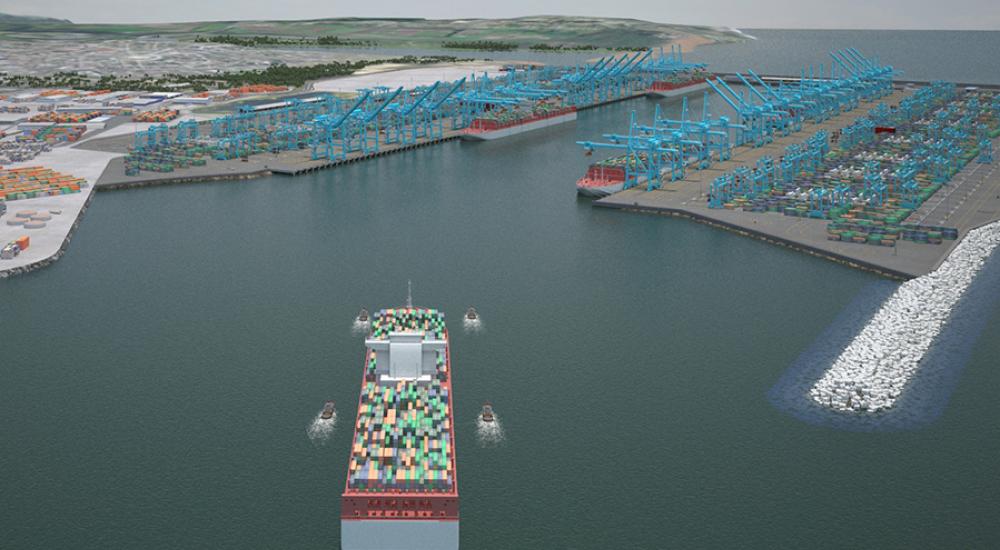 (Image courtesy of Puerto San Antonio, Chile)
José Gallardo, Senior Engineer, PRDW, added: "At over 3.9 km long, this will be the largest breakwater ever planned for Chile. The location of the breakwater makes the environmental conditions particularly challenging. They include a river mouth discharge and large waves, as well as a deep-water canyon in the sea bed adjacent to the port. This level of complexity makes undertaking physical modelling studies a critical part of the process."
HR Wallingford is undertaking this work in partnership with The Instituto Nacional de Hidráulica (INH), with tests being conducted both in the UK and in Chile in INH's laboratory in Peñaflor.
Maria di Leo, HR Wallingford Coastal Structures Group Manager, explained: "The studies we will be carrying out include 2D and 3D modelling to test breakwater stability and port operability. The 2D tests will focus on four sections of the breakwater, and will be used to optimise the design with respect to armour units, toe size and depth, crest elevation and crown wall configuration, among others. For the 3D tests the whole port and adjacent stretches of coast will be modelled, including a portion of the canyon at the port entrance. To that end, we will build the model in our biggest basin, which is 75 m long and 32 m wide. The 3D tests will look at wave agitation and ship movement, and will also look at the wave induced three-dimensional effects that can affect the breakwater stability and overtopping performance, those that can't be addressed in 2D. We are looking forward to this new collaboration with INH which involves Knowledge Transfer as part of the project, and an opportunity to share standards."
The detailed engineering study has been awarded to the Spanish company Sener Ingeniería y Sistemas Chile whose key projects include the construction of the Maritime Terminal of Costa Cruceros, Port of Barcelona.
Almost 90 per cent of all of Chile´s foreign trade goes through its ports, of which San Antonio is currently the largest, with an annual throughput of 18.2 million tons in 2016. Following demand estimates for the second half of the next decade, San Antonio Port Authority has initiated plans for an expansion that, developed in phases, will allow it to add an additional capacity of 6 million TEU/year, giving San Antonio an installed capacity of 9 million TEU/year.
Work on the breakwater could begin by 2020, and the first stage of the first terminal could start operating by 2026 or 2027. The Outer Port would then be developed in discrete stages, to be fully completed by 2038 or 2040.
Top photo: (From left) Daniel Roth, Project Director, San Antonio Outer Port, Dr Mark McBride, HR Wallingford's Ships Group Manager, Maria di Leo, Coastal Structures Group Manager and José Gallardo, Senior Engineer PRDW Consulting, at a kick-off meeting at HR Wallingford in Oxfordshire on 18 December 2017.
Want to know more?
Press Office
Press Office
+44 (0)1491 822854