Innovative FloodSafe house moves in
4 May 2022
The Hadley FloodSAFE™ House has moved into the HR Wallingford modelling hall, where our experts will put the house through its paces by simulating flood conditions. The team has designed a bespoke testing programme because existing testing standards cannot be used for the house which raises itself to avoid floodwater.
HR Wallingford tests a huge range of flood products, such as flood barriers, windows and doors, but all of them are designed to be submerged. So, using our knowledge of flooding, engineering and hydraulics, we have come up with a unique programme for the house that includes wave, wind and impact testing.
Dr Ian Chandler, a senior engineer at HR Wallingford, said: "It is likely that many more flood avoidance products will come on line in the coming years. It's crucial that these innovative new products are safe and we hope that the tests we've developed for the Hadley FloodSAFE™ House will open the door for a standardised testing programme in the future."
Installing the structure in lab also presented some interesting challenges. It is the tallest structure ever in our wave basins, meaning it took around two weeks to set up.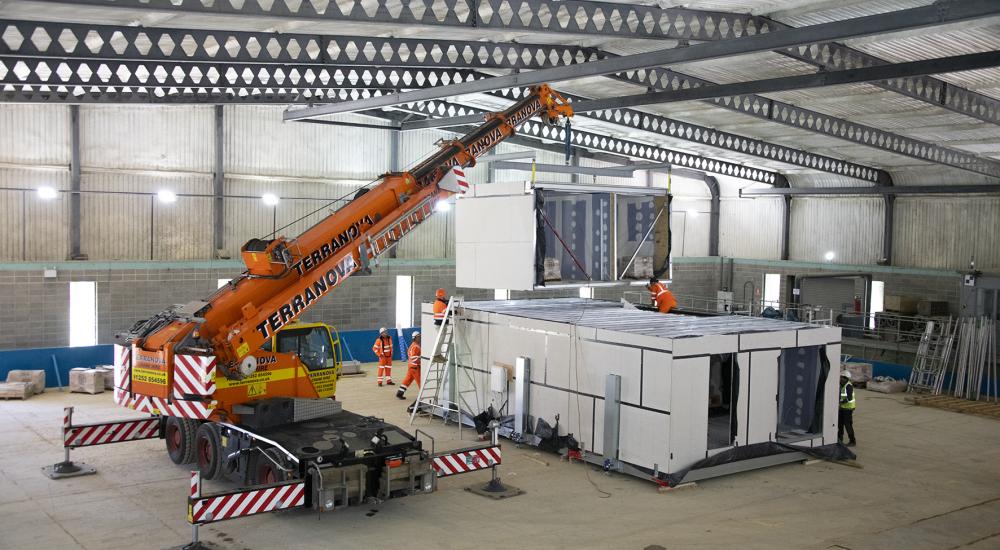 The Hadley FloodSAFE™ House lifts at the moment it is needed, reducing the risk of damage and significantly reducing time needed to prepare for a return home. A series of EA approved water sensors are installed to detect a significant water-related event. Within 15 seconds, the sensors trigger the Control Panel that raises the structure at the rate of the onset water to over 1.5m. Control panels and variable water sensors keep the home approximately 150mm above the flood water level and maintain such a distance throughout the flood event, until such a time that it is safe for the structure to return to ground level.

HR Wallingford has the most modern and extensive suite of physical modelling facilities available anywhere in the world, which are used to test the effect of water in a huge variety of structures and environments. Our laboratories are housed in three purpose built halls, extending to around 14,400 m2, and include a wave basins, flumes and the world's largest fast flow facility. 
 
Want to know more?
Press Office
Press Office
+44 (0)1491 822854