Managing cable congestion for the world's largest offshore wind farm
2 October 2018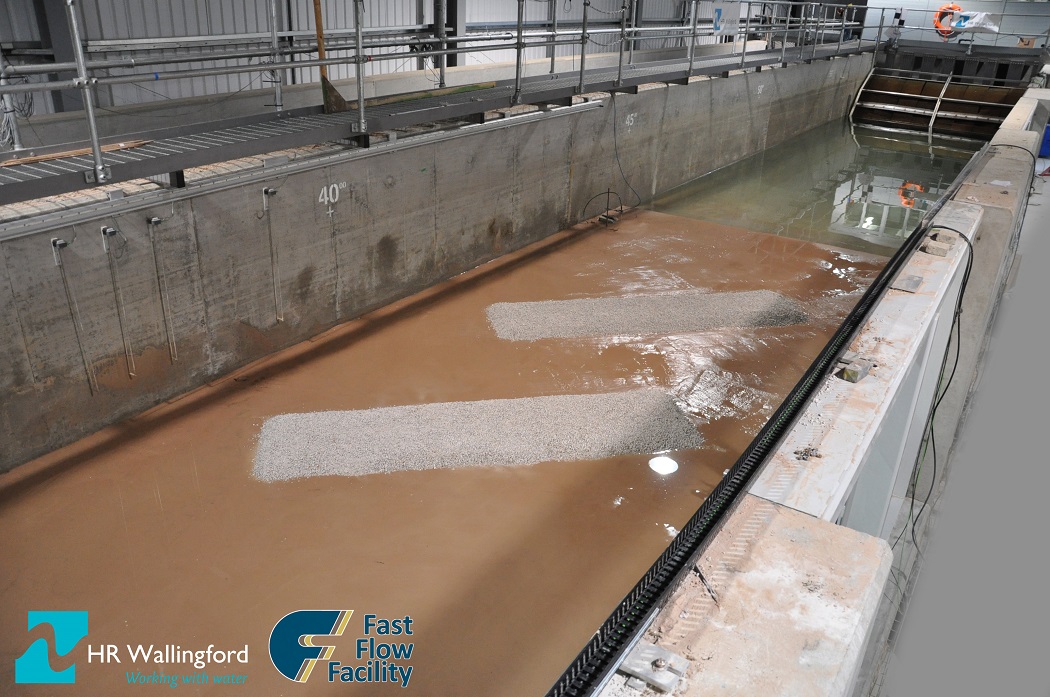 The world's largest working offshore wind farm, occupying an area of 55 square miles (145 sq km), opened in the Irish Sea off Barrow-in-Furness in the North West of England in September. HR Wallingford has been helping Danish operator, Ørsted, to build stable cable crossings for their new Walney Extension windfarm, on what is becoming an increasingly congested seabed.
The UK has one of the largest offshore windfarm estates in the world. Some 7,000 turbines across 32 sites contribute up to 30 per cent of the power delivered to the National Grid at any one time. Each new windfarm must be 'plugged in' onshore using buried high voltage sub-sea cables. The most recently constructed Round 3 windfarms, which are located in significantly larger development zones than previous projects, are experiencing a new phenomenon: a congested seabed with a complex network of existing cables and pipelines that new ones must cross in order to make it to land.
At Walney, the four existing windfarms in Morecambe Bay, along with gas pipelines and cables, meant that there were eight obstacles in the way. To get over these obstacles, it was necessary to bring the buried cables up out of the seabed, over the existing asset, and then rebury them, normally securing the exposed cabling with a cover of rock - a rock berm.
However, rock berms can sometimes be problematic, causing large holes to be scoured in to the seabed that can extend hundreds of metres from the structure. This scour can expose the existing assets and can lead to expensive repair bills. This makes it increasingly important to get the crossing design right from the outset. HR Wallingford carried out scour tests for Ørsted in its Fast Flow Facility, which is able to re-create realistic marine conditions in the laboratory. An assessment of the as-built footprints relative to the design was also conducted.
Dominic Brown, Geotechnical Engineer within Ørsted's Cables Team, said: "We wanted to eliminate likely cable crossing issues before installation by carrying out scour tests under realistic marine conditions."
Dr Kerry Marten, Senior Coasts and Oceans Scientist at HR Wallingford, explained: "Morecambe Bay experiences fast tidal flows and some of the largest tidal ranges in the world, so we needed to be able to see how the rock berms installed near to each other were affected by scour. We investigated how the scour patterns developed to see how the orientation of the berms caused more or less of an obstacle to the tidal flows, and whether this increased or minimised the scour effects. We used this, and further physical modelling tests, to produce engineering guidelines in partnership with Ørsted to inform the design of their eight cable crossing rock berms for Walney Extension."
Dr Andreas Roulund, Lead Scour Engineer at Ørsted added: "The rock berms were installed in late 2017. We were pleased to see that no scour was observed in the post-installation surveys, which has, in the short term at least, confirmed the effectiveness of the new design guidelines in minimising the risk of scour."
The research work behind these guidelines is the focus of two joint publications by Ørsted and HR Wallingford, which will be presented in November 2018 in Taiwan at the International Conference of Scour and Erosion (ICSE), a platform for sharing advances in research and practice on the scientific and engineering challenges related to scour and erosion.
Want to know more?
Press Office
Press Office
+44 (0)1491 822854