Project to assess optimal ways of protecting precious chalk streams
We have teamed up with Water Resources East (WRE) to assess how various interventions could help protect England's precious chalk streams. The work is looking at improving chalk stream resilience by focusing on better stewardship of land, and nature-based solutions. By measuring costs and benefits of these alternatives, the team will be able to create a tool to support water companies, resource planners and landowners to make scientifically informed decisions on interventions, which could be used to provide evidence for government funding decisions.
We are planning to study a range of interventions in three of WRE's catchments to help identify the optimal way to improve the flow and protect the ecology of chalk rivers and catchments. As these also supply a large amount of water to the public, agriculture and energy sector, the project is looking at alternatives to reducing abstraction, which is already capped in the attempt to make it sustainable and improve the resilience of chalk catchments. Certain interventions could help protect these ecologically-rich streams and rivers, so that they do not run dry in hot summers and continue to support important flora and fauna, such as trout, salmon, dragonflies and crowfoot.
WRE has identified three pilot catchments for us to study: Lark, Stiffkey and Granta. At initial site visits, which commenced mid-July, scientists will identify the sort of interventions that are suitable to be implemented and further opportunities to improve the resilience of chalk catchments. The team will consider options including, but not limited to, nature-based solutions, for example to plant specific types of trees, improved land use through land stewardship and Environmental Land Management (ELM) schemes to promote farm reservoirs, or river restoration.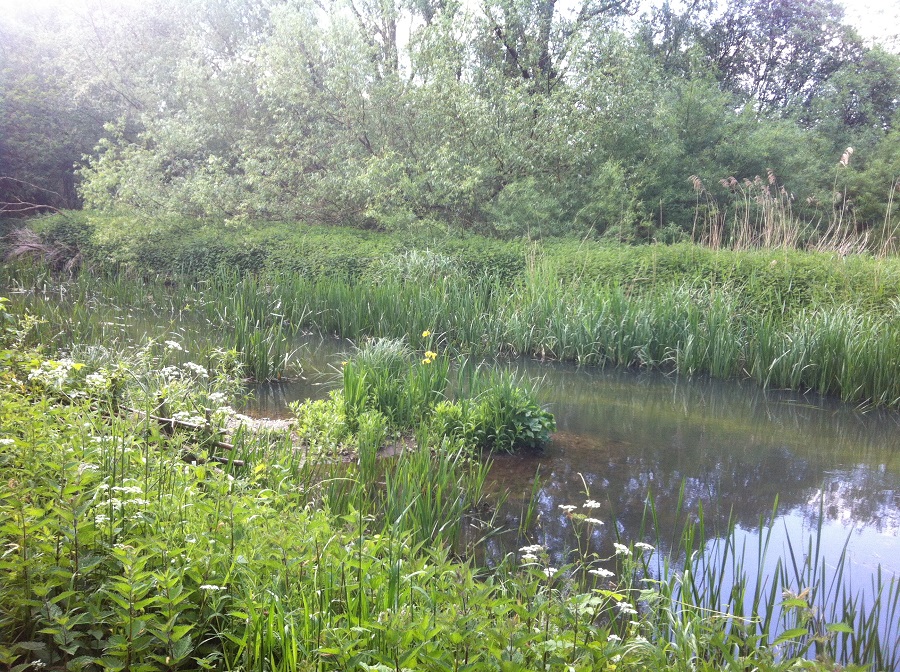 Throughout the process, HR Wallingford and WRE will be consulting with representatives from each of the catchments and bodies such as the Environment Agency, the National Farmers Union and Natural England. 
Andrew Hinchley, chairman of the River Lark Catchment Partnership, stated: "We really welcome HR Wallingford and WRE choosing the Lark as one of the catchments on which to focus. We are particularly pleased since the Lark is one of the most over-extracted and polluted chalk streams in East Anglia...yet we believe, with the right amount of effort by both professional organisations and our volunteers, that this can be greatly changed in the next decade, benefitting not only the environment and those visiting, but also contributing positively to conquering the problems of drought that our nationally important farming community faces."
Once the interventions have been chosen and put in place, the team will carry out modelling works to quantify the impact of each on the catchment's aquifers and streams. The team then plans to develop an innovative decision-making platform that can be used elsewhere too to test the type and extent of a range of land-use interventions within chalk stream catchments, calculate the potential cost-benefits and help in decision-making.
The new model could be used to help inform the ELM funding, currently being set up by the UK government. ELM schemes will allow land owners to seek funding for projects which improve the environment, and is due to come into force in 2027. The model could also be used to demonstrate environmental improvements in land use for Biodiversity Net Gain payments.
"This project is the first piece of research that will measure the impact of different interventions and enables decision-making in the context of chalk catchments," explained Dr Majed Khadem, HR Wallingford's project manager. "Other studies have examined the importance of chalk streams and rivers, but not measured the outcomes of applying measures to protect them. Considering the significance of chalk catchments for the public and for our environment, HR Wallingford has chosen to fund the project for two years as part of its internal research programme."
Robin Price, WRE's Managing Director, added: "The project is important to WRE because it will give us further scientific evidence showing which interventions bring real benefits. WRE is very keen to test a range of approaches to increase system resilience, improve aquifer recharge and river flows and also reduce flood risk."  
The project comes at a pivotal time in WRE's calendar as WRE members start to co-create their first regional water resources plan at a series of planning conferences being run throughout the Autumn.
To find out more about the chalk stream project and/or how to get and involved in the regional water resources planning, visit https://wre.org.uk/.
 
Contact us for more information