Welsh Water Manual gets the SmartApp treatment
Managing the smooth running of a water treatment works is a complicated business. There are many people involved and many written, hard copy operating procedures to follow, which need to be undertaken in particular sequences. The consequences of a problem in the operation of such a site can be significant, and cause disruption to a large population of customers. Now Dwr Cymru Welsh Water (DCWW) and HR Wallingford have worked together to produce an innovative App-based, interactive version of their Works Operating Manual for one of their water treatment works.
HR Wallingford's sector lead for Emerging Technologies, Craig Goff, explains: "Based on recent research work we had undertaken with another UK water company to utilise advanced technologies such as augmented reality (AR) and near field communication (NFC) to produce a dam operation and maintenance App, we were the logical choice for DCWW to team up with to produce this interactive Works Operating Manual (iWOM).
The iWOM App uses 3D imaging, AR assistance and NFC triggers to help new users become familiar with the complicated site, and to give existing operators a fast, slick interface for their routine operations and record keeping. In fact we were so excited by the possibilities to build on our skills in this area, we part funded the project using HR Wallingford's own R&D funding mechanism."
Our work with Welsh Water to develop the interactive Works Operating Manual (iWOM) won the Collaborative Working Award in the Institute of Water Innovation Awards 2018 (Welsh Area).
Craig Goff, HR Wallingford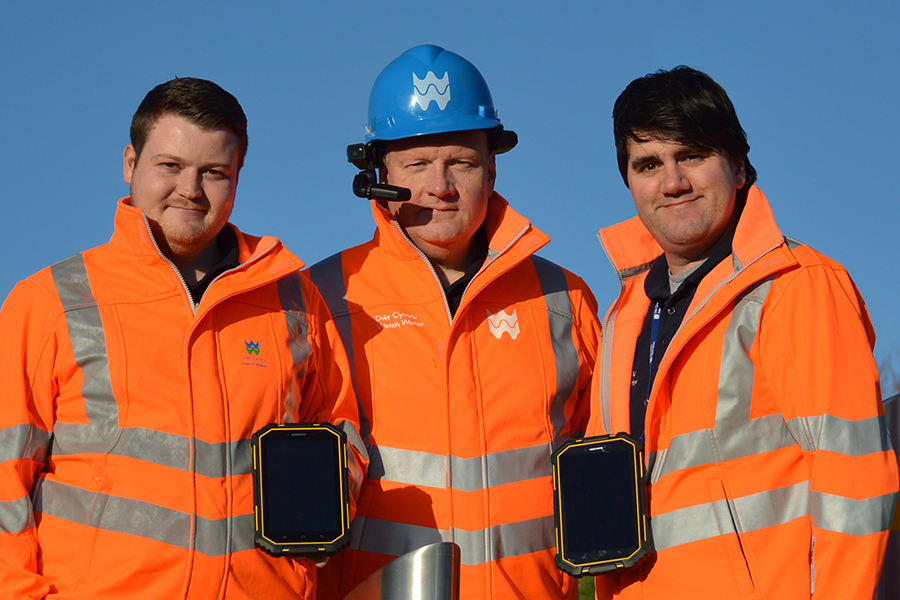 The DCWW Interactive Works Operating Manual Team. From left: Glen Peek, Gary Smith and Ben Cale.
The finished iWOM App is Android based and runs on a waterproof ruggedized tablet device. It has also been adapted to run on an AR headset to offer operators truly hands-free, safe access to all the data and information they may need in the course of their duties. Throughout the project, the HR Wallingford team of software developers and engineers worked closely with the end-users at DCWW to ensure it would be genuinely useful, and had their buy-in and enthusiasm.
Craig added: "Through several iterative rounds of testing and feedback, we developed a robust product that should improve staff efficiency, record keeping and audit trails, as well as improve staff safety in their day-to-day activities on what can be a dangerous environment."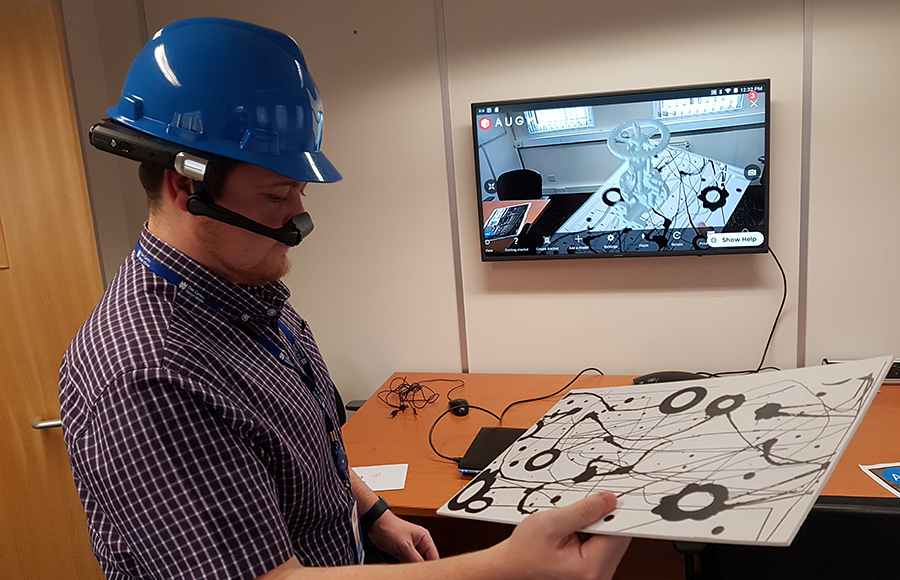 DCWW's Glen Peek tries out augmented reality enhancements on a RealWear HMT-1 headset
DCWW Project Manager, Glen Peek, commented: "The iWOM Application has brought together all our critical operating documentation (usually stored as hard copies) and made them interactive with the way we work on our operational sites. The use of NFC Tags and QR codes bring the required documentation and procedures to the forefront for the operator, at the required location on the asset. This technology is soon to start trials on our asset, and I'm looking forward to seeing how it transforms the way we work, whilst improving health and safety."
Contact us for more information