D-MOSS: Dengue forecasting MOdel Satellite-based System
Half the world's population is now estimated to be at risk from the dengue fever, a mosquito-borne viral infection found in tropical and sub-tropical climates worldwide. We are leading the development of D-MOSS, a pioneering dengue forecasting system as part of a UK Space agency funded project. This system uses Earth Observation data to give early warning for dengue fever outbreaks in six South Asian countries.  
For the first time, an Earth Observation-based forecasting system allows decision makers to identify areas of high risk for disease epidemics before an outbreak occurs, in order to target resources so as to reduce an epidemic spreading and to increase disease control.
Darren Lumbroso, Technical Director
The D-MOSS early warning system is already live in Vietnam and is being implemented in Cambodia, Laos, Malaysia, Thailand, The Philippines and Sri Lanka. It gives beneficiaries several months advance warning of likely outbreaks of dengue fever. It allows local communities to mobilise to eliminate mosquito‑breeding sites thus reducing incidents of dengue. In combination with better outbreak response, we expect it will help reduce dengue incidence over the project lifetime.
Probabilistic forecasts of dengue outbreaks issued every month, up to seven months in advance.
Seasonal forecasts of water availability, at a catchment scale.
Built in capability to replicate anywhere in the world and for a variety of other diseases.
Forecasting dengue fever in Vietnam
Case studies - what users say about D-MOSS
D-MOSS has helped policy-making officials to develop dengue prevention and control strategies in advance of an outbreak.
Dr Vu Trong Duoc,  NIHE, Vietnam 
Download the full case study (pdf)
D-MOSS is helping bridge the gap between early warning and early action.
Dr Pham Ngoc Thanh, TIHE, Vietnam
Download the full case study (pdf)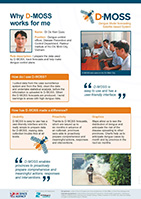 D-MOSS enables provinces to proactively prepare comprehensive and meaningful actions, responses and interventions.
Dr Do Kien Quoc, Pasteur Institute of Ho Chi Minh City, Vietnam
Download the full case study (pdf)
Research consortium, sponsored by the UK Space Agency
HR Wallingford leads the D-MOSS consortium, working alongside the London School of Hygiene and Tropical Medicine, the UK Met Office and Oxford Policy Management in the UK, and with the following international partners: the United Nations Development Programme, the World Health Organisation, the Vietnamese Institute of Meteorology, Hydrology and Climate Change, the Pasteur Institute Ho Chi Minh City, the National Institute of Hygiene and Epidemiology in Vietnam and the International Medical University in Malaysia. The project is sponsored by the UK Space Agency's International Partnership Programme (IPP), a five-year, £152 million programme designed to partner UK space expertise with overseas governments and organisations to deliver sustainable, economic or societal benefits.
Want to know more?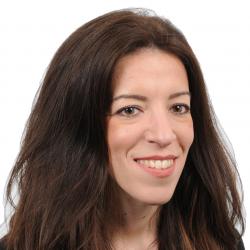 Gina Tsarouchi
Principal engineer and project manager
+44 (0)1491 822899