KOTUG runs first Mates-to-Masters Courses in Australia using our tug simulators
6 December 2021
KOTUG has run its first simulator-based harbour towage Mates-to-Masters Courses in Australia, so that mates can practice manoeuvres before progressing to on-the-water training. The training was carried out using our world-class tug simulators.
The first two Mates-to-Masters simulation-based training courses were run at our Australia Ship Simulation Centre in Fremantle, Western Australia in association with KOTUG, which manages and operates nine tugs in the Port of Port Hedland, Western Australia. It was the first time KOTUG had held Mates-to-Masters courses in Australia, following obtaining full operational management of Pilbara Marine's towage operation in the Port in August 2021.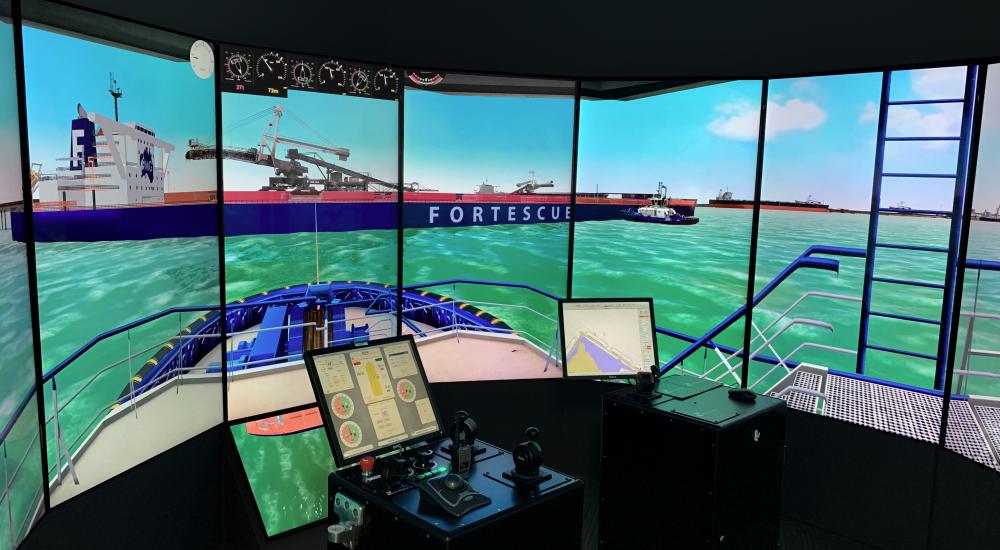 As part of KOTUG's ongoing development of crews for the ART 85-32W class Rotortug®, the programme trains existing mates operating on the tugs to become masters. The trainees spent the first eight days of the course familiarising themselves with the handling of the realistic tug manoeuvring model, created by HR Wallingford's naval architects and verified by the KOTUG training masters.  
The simulation training provided the opportunity for the mates to develop their tug handling skills from performing basic manoeuvres in open water, to escort towage and assisting with complex ship movements within the port. The trainees were also able to experience realistic ship-to-tug interaction effects, as well as tug wash, in practical simulation exercises.
After the simulation element, the trainees will move onto 10 weeks of on-the-water training under the supervision of KOTUG's world-class training masters. All of the simulator-based exercises will be repeated during the on-the-water training, along with ongoing competency assessments throughout the training utilising KOTUG's electronic training app.
KOTUG training master, David Limpert, explained: "KOTUG and HR Wallingford worked together to create useful training aids within the simulation system and visual scene for the mates to hone their skills, using the extremely realistic tug manoeuvring model."
KOTUG executive director, Darren McCormick added: "After conducting a number of simulation projects with HR Wallingford, they were our natural choice to conduct these simulations and progress our partnership in safe towage operations. Running eight days of simulation training at HR Wallingford was found to be invaluable with vast cost savings from on-the-water training. It also reduces the risk for KOTUG with refinements to techniques made in the simulator, prior to getting onboard the actual tug."
HR Wallingford's Australia Ship Simulation Centre Manager, Ben Spalding, said: "We have a long relationship with KOTUG at our UK Ship Simulation Centre as well as through Shell Australia's Prelude FLNG operation. It has been fantastic to build on this through the new training course, having previously established ourselves as one of the leading ship and tug navigation training simulation centres in Australia."
Want to know more?
Press Office
Press Office
+44 (0)1491 822854