The 'Star Wars' dunes that march through offshore windfarms
22 October 2020
At a windfarm far, far away, rare crescent-shaped dunes have been slowly making their way across the seabed. On land, the unusual dunes are famous for engulfing a Star Wars movie set in the Sahara, but in a new HR Wallingford study, world-renowned scientists tracked similar dunes underwater to show how they move past monopiles.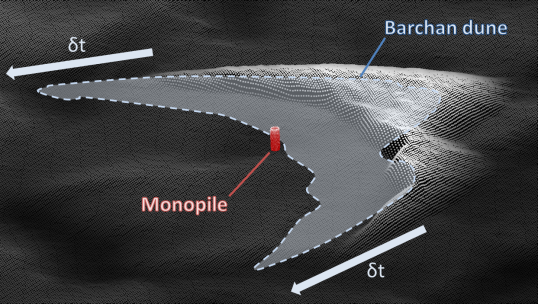 The research, published in the latest edition of the journal Earth Surface Processes and Landforms, is the most extensive study of its kind and will help support offshore wind developers. It captures the effects of the sedimentology phenomena, called marine barchan dunes, trooping across the seabed and looks at whether they cause increased erosion (scour) around the monopiles. The scouring process happens too quickly to  observe, so the renowned team constructed an advanced 3D numerical model using the TELEMAC modelling suite.
The team did see some surprising scour pits, but luckily for the planning, installation and maintenance of windfarms, the team of experts did not find that the barchan dune increased erosion. And because the scour happened so quickly, there was never any additional sand up against the monopile, keeping the stiffness and the integrity of the foundation fairly constant.
Dr Kerry Marten, senior scientist at HR Wallingford, explains how the project came about: "We first spotted the dunes in 2004 during a pre-installation site survey and, realising that not much was known about how the large submarine features would interact with the windfarm, we asked the owner if we could use the data for our internal research programme. For the next eleven years we tracked the progress of the dune, inputting the data from site surveys into our model and analysing the effects on the monopiles"
So, good news for windfarm developers as the dunes pose little threat to operations. But as the research is likely to be ongoing, it can only be said that 'the story continues'…
Want to know more?
Further information
Press Office
Press Office
+44 (0)1491 822854