Building a flood forecasting and warning system for Malaysia
Large areas of Malaysia repeatedly suffer from prolonged and significant floods, causing widespread disruption to communities, businesses and infrastructure. And with climate change and urbanisation expected to lead to bigger and more frequent floods worldwide, early-warning systems are set to become all the more important. We developed a new National Flood Forecasting and Warning System for Malaysia, that is already helping to protect lives and livelihoods. 
Ambitious scope
As part of an ambitious project to build a country-wide early warning system, we initially developed flood forecasting for 25 catchments in peninsular Malaysia for the Department of Irrigation and Drainage, covering 99,000 km2. The system provides alerts to authorities 48 hours prior to a flood and flood forecasts up to a week in advance.
We are now extending the system to 11 more catchments, including the country capital Kuala Lumpur. Unifying the technological approach across the country is an important move for flood management in Malaysia where a fifth of the population is estimated to be at risk from flooding.
Data driven, people focussed
Our solution delivers a fully operational flood forecasting system for each of the catchments. As part of the development of the warning systems we assessed the various inputs to the system and advised on both the accuracy and reliability of these sources. The forecasting systems are automatically linked to real-time data sources, which include rainfall (rain gauge, observed radar and forecast numerical predictions) and water level gauges. Incoming gauge data is automatically quality checked for data inaccuracies and infilled as required.
The forecasting system produces forecasted water levels and flows at thousands of locations along the rivers and on the floodplains, allowing flood warnings to be targeted at specific people. Warning locations include schools, hospitals, mosques and villages, as well as key points in rivers.
The forecasting system has automatically scheduled flood forecasts with forecasts being issued several times each day. All key results, including rainfall, water levels and flood maps are provided to the national flood control centre, where it is analysed and then disseminated to all relevant authorities. Evacuation and emergency response can then be organised in a timely fashion, saving people from flooding.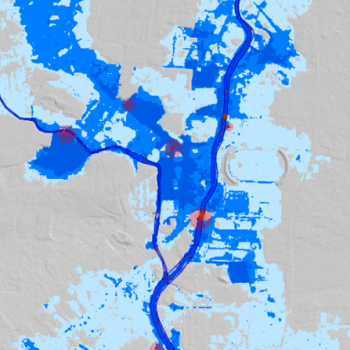 Long term sustainability
Capacity building was a key component to ensure the long-term operation of the system. To this end we ensured that operations staff were trained in the system operation and management. This allows local users to maintain and use the flood forecasting system. HR Wallingford still maintains an active role in supporting the operators using the system on a daily basis.
Want to know more?
Contact our project lead
Emma Brown
Technical Director
+44 (0)1491 822899