Marine facilities for Wheatstone LNG
Our specialist capabilities in LNG marine facility design, combined with our extensive experience in major international projects, made us the ideal partner on this project. Our comprehensive input covered the full spectrum of our expertise. We brought continuity and knowledge to the whole project delivery.
A truly mega project
Wheatstone, one of Australia's largest resource projects, is located 12 kilometres west of Onslow on the Pilbara coast of Western Australia. The foundation project consists of two LNG export trains with a combined capacity of 8.9 million metric tonnes per annum.
HR Wallingford provided engineering expertise from concept design, through Front End Engineering Design (FEED) to site supervision for the construction of the marine facilities associated with the Wheatstone downstream project.
Developing the concept
HR Wallingford developed the concept for the downstream marine facilities for the Ashburton North site, comprising:
the Material Off-loading Facility (MOF)

the Product Loading Facility, and

the navigation channel.
We developed the basic outline of the marine facilities considering challenging issues such as rough waves, the frequency of cyclones and the proximity of coral reefs.
From concept to design
Following concept design, we developed Front End Engineering Design (FEED) for the marine facilities.
Better wave data and more robust modelling allowed us to refine the design, moving the breakwater inshore, reducing the material quantities, improving construction safety, and ultimately move to a more economic design.
Proving the design before construction
We carried out a 1:50 scale 3D physical model tests of the MOF, including the breakwater, to confirm that the chosen layout provides the required level of shelter for marine operations and that the structures are robust enough to withstand cyclones. The model tests simulated a 1:200 year storm, under which the tugs are moored at their berths, and an overload condition that is close to a 1:1000 year storm under which the breakwater should remain largely intact
Within the 3D model testing we also assessed:
wave run up and overtopping

tug mooring arrangements including:

tug restraint structures

tug mooring line forces

tug berth fender loads

wave conditions at the MOF quay.
Due to the scale of the development, the breakwater construction occurred over the span of two cyclone seasons. For this reason a physical model of the partially built breakwater was also tested.
Make design a reality
During the EPC phase we prepared specifications, technical notes and support drawings to guide the engineering, procurement and construction of Wheatstone.
Two members of our team were based on site for two years to oversee the entirety of the dredging works; they acted as the client representative for Bechtel on board the dredging contractor's vessel.
Our engineers undertook regular visits to monitor progress and trouble shoot some of the more difficult technical challenges. During construction HR Wallingford provided flexible support with the right experts at the right time.
Want to know more?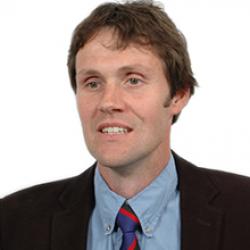 Iain Gunn
Sector Lead – Energy
+44 (0)1491 822899